Ponds vs. Pondless...
The waterfall is undoubtedly the most beautiful and favored feature in your water garden. If space is lacking in your yard or you have concerns with a pond, go pondless! The name basically explains it all. It's a waterfall and stream, without the pond. So why would you want a waterfall without a pond? The truth is that a Pondless Waterfall isn't for everyone, but it can be a great alternative for someone who isn't quite sure if a pond is right for them. Perhaps you don't live at your residence year round or travel frequently, then the Pondless Waterfall is right for you. They are very low maintenance and can be turned off while Ponds should be kept continuously running.

Where does the water go in a Pondless Pond? It works much like a regular pond. A basin is dug, then a liner goes in.  It's filled with rock, gravel, and aquablox. Water is circulated by a pump that sits inside the basin within a housing unit. Plumbing brings the water up to the waterfall box where it spills over the falls or stream and runs back down into the basin. This gives the appearance of a waterfall without a pond. The "pond" is there but is basically under the ground.  Pondless Waterfalls have satisfied the needs of many water-lovers who were previously unable to indulge in the soothing sounds of water. They are completely customizable so they come in many shapes and sizes to suit your needs. They now can also be integrated in the construction of our rainwater harvesting systems, see our Rain Water Conservation page to find out more about harvesting rain water.

OK- So Maybe you do want a Pond. Great! An ecosystem pond works with Mother Nature creating a natural, low-maintenance piece of paradise. It's important to remember that every piece of the ecosystem puzzle must be present in order for a true ecosystem to be in place. Eliminate one of these elements and you've got an unbalanced ecosystem.

Your 5 Key Elements are:  1) A Circulation System      2) A Proper Filtration System      3) Fish      4) Aquatic Plants      5) Rocks, Gravel, and Bacteria.

A well built pond means a balanced pond that needs less maintenance than most landscaping.

Pond?  If you love animals & nature a Pond is for you! Ponds are ecosystems and are full of interesting life. Adults, Children & Pets all agree.

Your not into fish? Not yet. If you like wildlife you will love your fish and even start to name them. Fish and plants go hand in hand with balancing a pond. You need both to make it work or else you should go pondless for your landscape design.  Since a pond is living ecosystem it does need a little care from you.  The size, location, and season will determine the amount of maintenance required.  A well built pond installed by Desired Landscape complete with a skimmer and biological filtration system is the way to go. Your few tasks will be to add bacteria, remove dead plant leaves and flowers, and empty the net in the skimmer which gathers surface debris similar to a pool skimmer. It only takes minutes and how often these are required depends on your pond. We are your garden landscape contractors. Of course we offer maintenance plans if you just want to sit back and relax.

Do I need to top off my pond or pondless due to evaporation? Yes, but what is nice is that water features use less water than grass while providing sustainability for wildlife. We recommend the installation of an Auto-Fill, it's a good idea for any water feature. No more topping off the water with a hose which means less work for you! Call Desired Landscape, a certified pond contractor, for a professionally installed water feature or check out our online products for the do-it-yourselfer.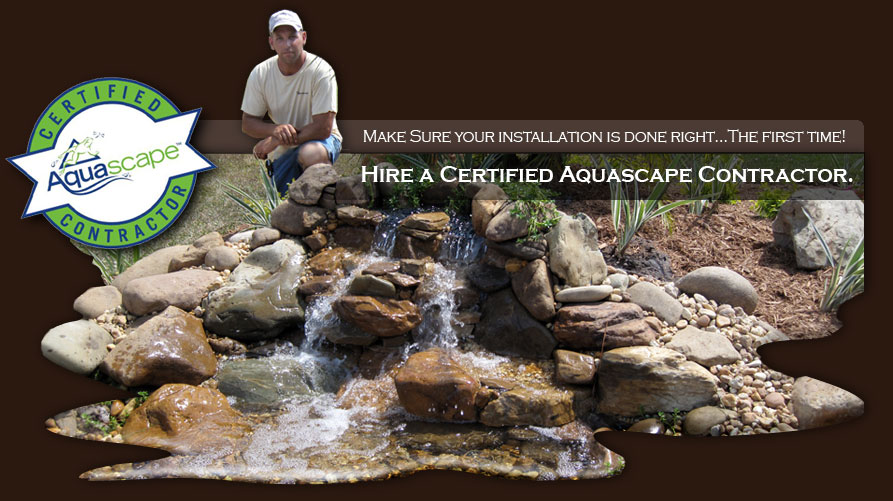 Hire Us With Confidence...
Custom Water Garden Design & Installation Services
Working with Mother Nature not against her, we will design & install water features that fit your lifestyle! From Koi Ponds & Pondless Waterfalls to Rainwater Harvesting we are the contractor you want on your build. We've worked on many BIG & small projects. We are a small company (by choice) & the owner will be overseeing every job personally because quality control & customer satisfaction are very important to us. Many of our clients have told us that they had searched for years for their waterfall builder before they found us. When they found us and saw the difference in our quality & craftsmanship, they knew that we were the artist who could make their dreams a reality.
Make Sure your installation is done right…The first time!
Hire a Certified Pond Contractor.
Certified Aquascape Contractors are the most qualified and informed pond installers in the water gardening industry. All CACs are required to attend continual training and education seminars and maintain a proven record of outstanding work and dedicated customer service and support. All water feature installers who wish to become a Certified Aquascape Contractor must complete an in-depth application that includes referrals, pictures of completed water features, and general questions about their business and water gardening philosophy. These applications are then reviewed by technical agents at Aquascape, Inc. and a review board made up of other established CACs.
What is the biggest pond you've ever built?
It was an Aquascape Ecosystem swim pond in Wisconsin. The bottom pond was around 60'x90'. Equipped with fish caves, jets, lights, gravel beach, Koi & aquatic plants and more. Up the hill from there was a huge bog system for filtration that fed water down a 100 ft long by 8 ft wide stream. This stream ran over the top of a walkthrough cave at the pond's edge which then fell down a 12 ft high waterfall into the swim pond. This project involved working directly with Aquascape Inc's "The Pond Guy" Greg Wittstock and his right hand man Ed Beaulieu PLUS about 50 Certified Aquascape Contractors (CACs). Oh and I Almost forgot to mention it took NINE Machines and FIVE tractor trailer loads full of rock! With our CAC brothers, we have the certified man power to complete large projects for you, your business, or your cause.
Why hire Desired Landscapes?
We are not just landscapers we are Artists. We love to design beautiful low maintenance yards with proper flow of energy that you can really live in. We've stayed small by choice but we have many business contacts like our CAC brothers mentioned above that we can call upon when needed for those bigger jobs. Hire us with confidence!
Visit our video gallery & photo gallery to get inspired about your project!
We can build just about anything. If you don't see it on our website it doesn't mean we can't help you realize your dreams, so please call today to find out.
Visit Our Photo Gallery
Visit Our Video Gallery
Shop for Pond Supplies

Whether you're looking for a fish / koi pond, a garden pond or garden landscaping, You've come to the right place. Landscape deign and pond installations are our specialty. Don't forget, we also offer pond pumps and pond supplies. We serve our Southwest Florida Base including, Sarasota, Siesta Key, Anna Maria Island, Longboat Key, Casey Key, Osprey, Nokomis, Manasota Key, Lakewood Ranch, Cape Haze, Boca Grande, Venice, Venice Island, Englewood, Gasparilla Island, Rotonda West, Port Charlotte, Deep Creek, Northport, Punta Gorda and more.
iDigPonds proudly serves Ocala, The Villages, Pine Ridge, Anthony, Rainbow Springs, Gainesville, Belleview, Lady Lake, Weirsdale, Dunnellon, Crystal River, Summerfield, Lake Weir, Leesburg, Tavares, Eustis, Fruitland Park with the best Certified and Licensed Water Landscaping Contractors and pond gardens in Florida!

We also serve Silver Springs, Silver Springs Shore, Wildwood, Sumterville, Citrus Springs, Beverly Hills, Hernado, Ocklawala, Invernes, Morriston, Williston, Mt Dora, Apopka, Clermont, Lockhart, Bassville Park, Grand Island, Fruitland Park, Lady Lake, Orlando, Winter Park, Hunters Creek, Ocoee, Clermont and Brooksville areas AND BEYOND!