Ocala Area Certified Installations of Pond Gardens

Professional water landscaping installations, rehab and maintenance - Certified, Licensed and Insured.
A water feature should be a master piece, a focal point, not an eyesore or maintenance nightmare. At iDigPonds and Desired Landscapes LLC we build water gardens with passion. We focus on form, function, beauty, low maintenance, and your enjoyment. All projects are completed under the direct supervision of the owner, artist Stan Festa . Stan is no ordinary pond digger.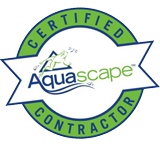 iDigPonds has trained under some of the best waterfall contractors in the country including awarding winning Brian Helfrich and Ed Beaulieu of Aquascape Designs. On a rainy day in 2007 we were part of an advanced pond install in Orlando Florida where a beautiful koi pond and pondless waterfall and stream were installed in one day by 30 landscape and pond contractors. While once again training under the best of the best installers, we met Greg Whittstock CEO of Aquascape Inc of Illinois who inspired us to earn our CAC. CAC stands for "Certified Aquascape Installer." To become a CAC you must have experience, passion, training, and education. There are just over 200 CACs in the US and iDigPonds is a proud pond builder in this elite brotherhood. Aquascapers are passionate about Ponds Done Right. Sadly, we know there are too many Ponds Done Wrong in Central Florida. Actually you can spot one just about anywhere you travel in the world if you know what to look for.

We took a recent trip to beautiful Sedona, AZ and saw some really sad waterfalls built by some contractor, while Mother Nature was showing off all around with powerful examples with true beauty, form, and function. How can this be? This is because clients, including architects and municipalities, time and time again fail to do their research and don't properly qualify their water fall builder. A slick salesman with a low price should raise a red flag in anyone's mind, "Why is he that much lower? What am I really getting?" Proof is in the portfolio and "you get what you pay for" couldn't be more appropriate when it comes to landscaping and water features. Now you can be a professional landscape architect or the best landscape designer in the world, but your crew probably isn't the best at waterscapes. Why? It's just not what they do. They haven't put in their time because they are so busy installing plantings, maybe patios, or maintenance etc. They just don't have the experience or the god given artistic talent to live up to the Ponds Done Right commitment.

So if you're shopping for a water feature please look at the pictures of THEIR WATERFALLS not just their landscape. Landscaping is like frosting on the cake. Plants can mask an ugly pond. Ponds and pondless ponds should stand on their own while the plantings should compliment and soften the water, not hide it. We will happily work with any local landscape contractor letting them do their thing allowing iDigPonds to focus its expertise for your pond garden.

In choosing a pond contractor, remember that an installation can go right or wrong. Sadly many clients have learned it can go WAY wrong. This is aggravating as well as costly. Ponds done wrong and customers served wrong give pond contractors a bad name. Below we have shown a few examples of ponds done wrong on the left (what you DO NOT want in your back yards!) Versus Ponds Done Right on the right side.
-- Ponds Done Right vs Ponds Done Wrong --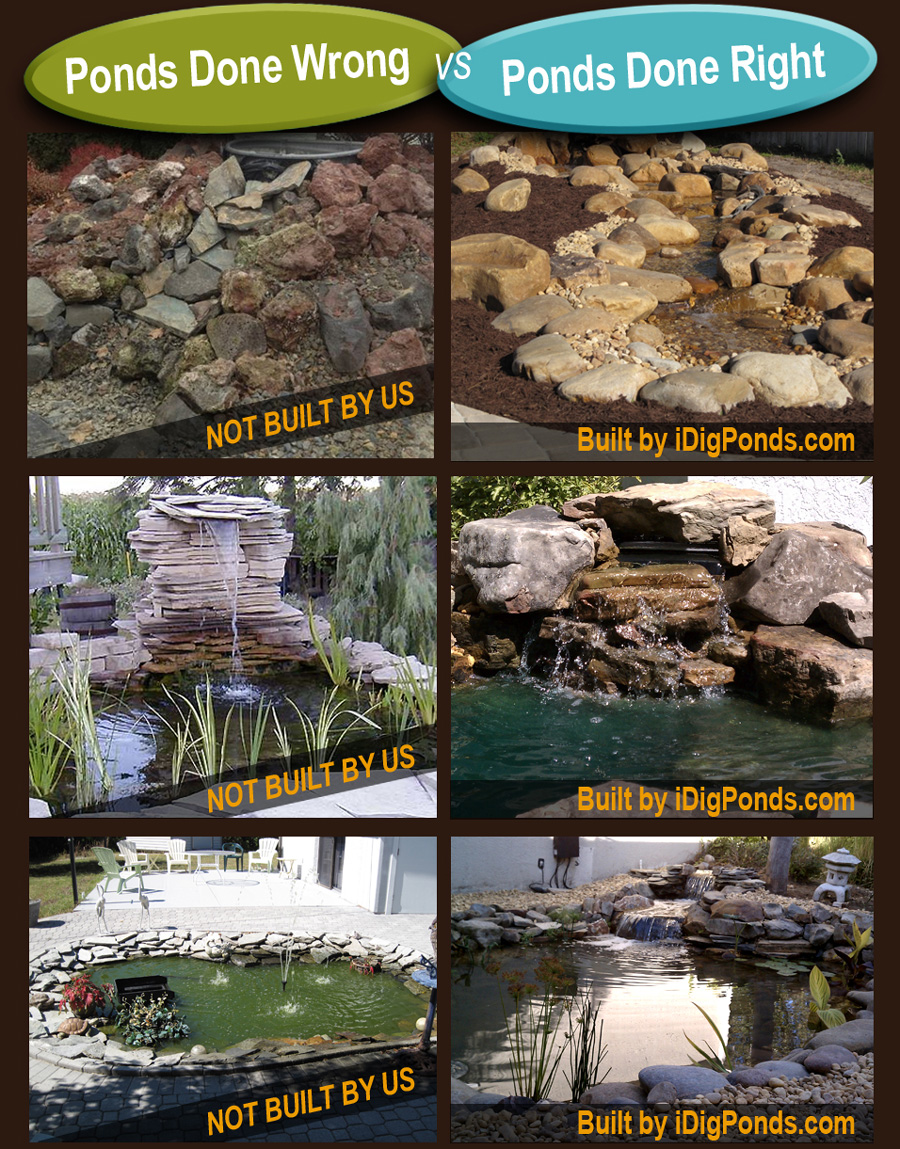 Educate yourself! Please check out our Portfolio to see our beautiful ponds and visit the iDigPonds Facebook page to find out we are up to. There, we share cool videos, news, products & other helpful info. And if you'd like to see even more poorly done systems so you know what NOT to except, please check out the Ponds Done Wrong page on Facebook. Now don't get us wrong - there are a number of ways for pond builders to build a water feature with different systems, which can be confusing and a cause for debate. But there are some basics of form and function that you MUST follow for your pond gardens. And each IS a work of art so all will have their own unique look based on the customer's yard, desires and budget.
We built our first Aquascape Ecosystem in 2003 in Newtown, CT. We still offer pond gardens installations in Connecticut but had moved to Sarasota County in 2005 where we spent seven years building koi ponds, low maintenance pondless ponds, waterfalls into pools and of course fixing ponds done wrong. In 2013 we bought a home in Ocala right up the road from The Villages of Florida where we are now offering the highest quality water features. We are still operating out of Englewood, FL as well as its surrounding areas. Check our display page to find fish ponds and pondless water falls that are open for public viewing. Waterfall displays in the Villages coming soon.
In addition to our professionally installed water features, award winning pond pros Stan Festa and wife Kym Festa at iDigPonds continue to offer hardscaping such as paver patios, walkways, retaining walls, and planters. We also offer 3D computer landscape design and theme building as seen on our YouTube Channel . While based in Central Florida, we also are a short drive away from Gainesville, Eustis, Orlando, Crystal River, Rainbow springs, Pine Ridge and all surrounding areas. In fact, in 2012 we purchased an RV so that we can easily travel anywhere in Florida or anywhere else in the US for select clients who are looking for a premier waterfall contractor. Whether you desire a new pond build, pond rehab, perhaps a facelift of your old pond or turn an ugly pond into a beautiful new pondless waterfall, we have the experience. Too often, we get called out to fix ugly ponds built by other pond contractors that didn't know what they were doing. On a rehab, we can work with what you have and incorporate new equipment, such as pumps or other components where needed. FINALY the water feature you truly wanted and deserved! Why settle for less?
-- Pond Installers serving the greater Ocala area --
iDigPonds proudly serves Ocala, The Villages, Pine Ridge, Anthony, Rainbow Springs, Gainesville, Belleview, Lady Lake, Weirsdale, Dunnellon, Crystal River, Summerfield, Lake Weir, Leesburg, Tavares, Eustis, Fruitland Park with the best Certified and Licensed Water Landscaping Contractors and pond gardens in Florida!

We also serve Silver Springs, Silver Springs Shore, Wildwood, Sumterville, Citrus Springs, Beverly Hills, Hernado, Ocklawala, Invernes, Morriston, Williston, Mt Dora, Apopka, Clermont, Lockhart, Bassville Park, Grand Island, Fruitland Park, Lady Lake, Orlando, Winter Park, Hunters Creek, Ocoee, Clermont and Brooksville areas AND BEYOND!